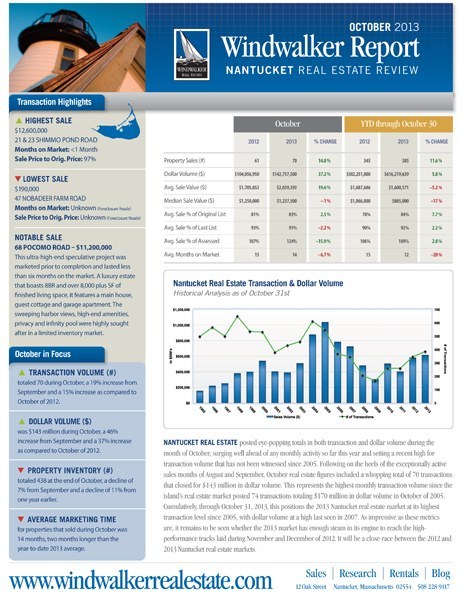 Click to Download
MARKET DATA | October 2013
NANTUCKET REAL ESTATE ACTIVITY posted eye-popping totals in both transaction and dollar volume during the month of October, surging well ahead of any monthly activity so far this year and setting a level high for transaction volume that has not been witnessed since 2005. Following on the heels of the exceptionally active sales months of August and September, October real estate figures included a whopping total of 70 transactions that closed for $143 million in dollar volume. This represents the highest monthly transaction volume since the island's real estate market posted 74 transactions totaling $170 million in dollar volume in October of 2005. Cumulatively, through October 31, 2013, this positions the 2013 Nantucket real estate market at its highest transaction level since 2005, with dollar volume at a high last seen in 2007. As impressive as these metrics are, it remains to be seen whether the 2013 market has enough steam in its engine to reach the high-performance tracks laid during November and December of 2012. It will be a close race between the 2012 and 2013 Nantucket real estate markets.
Click Here to read the full October report or click the image to the right for a PDF version.
Listen to

our weekly ACKFM Market Update about Nantucket real estate.
Windwalker Market Research Philosophy
Windwalker has always believed that sophisticated transactions require a deep understanding of market conditions. Since our launch in 2002, Windwalker has continually invested capital and intellectual resources to develop and deliver the market's most insightful research. Our approach is to balance quantitative and qualitative research, looking beyond Nantucket for relevant data points, and summarizing our analytics in a way which is clear and actionable. Come, take a look at the Nantucket Real Estate Market!
Follow Us On Twitter