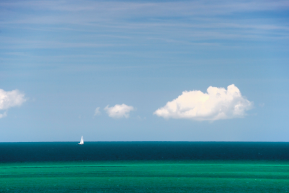 View Report as PDF
August 2012
Windwalker Nantucket Real Estate Market Research
August on Nantucket was hot, hot, hot! And while delightfully warm and sunny days were abundant, the heat we reference came directly from the real estate market. August transactions included 36 property transfers which totaled a whopping $101 million in sales. This activity represents a respective 124 percent and 24 percent increase from August 2011. The last time the Nantucket real estate market witnessed over $100 million in monthly sales was during September of 2010; previous to that successful month, sales activity has not been this strong since October 2007. August transactions brought cumulative real estate activity for the eight month period ending August 31, 2012 to 236 property transfers totaling $408 million, an increase of 21 percent and 46 percent respectively from the same time period in 2011. This is the best cumulative performance for this time period since 2007 when there were 262 transactions totaling $510 million. The year-to-date performance has undoubtedly been boosted by the return of high-end property transactions; we expect this will continue through year-end, helping to position 2012 firmly above the real estate markets of the past three years.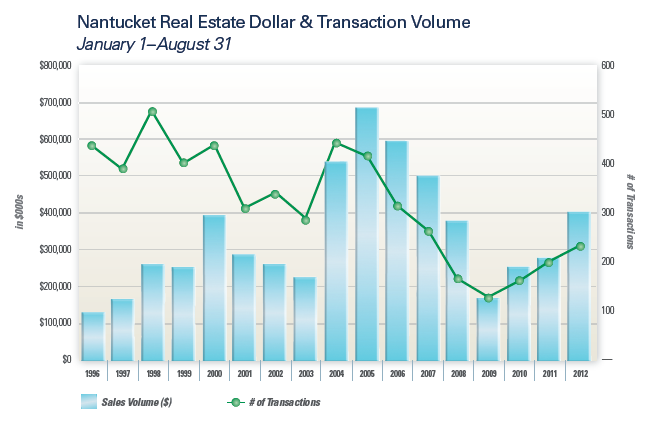 August sales were buoyed by a handful of high-end (+$mm) home transactions which aided in driving dollar volume to its new height. In fact, August hosted half of all the high-end activity recorded thus far this year and accounted for 28 percent of total year-to-date dollar volume. The most noteworthy sale of the month was the $18.5 million transfer of 25 Lincoln Circle. Originally listed more than two years ago for $23.75 million, this seven bedroom waterfront estate is the first of three highend transactions slated to close in this prestigious neighborhood this year. This sale not only marks the highest sale of the month, but also the highest sale of the year, surpassing the previous record set by the $16 million sale of 120 acres of land along Milestone Road. Interestingly, this Lincoln Circle transfer is reflective of what appears to be a developing 2012 trend: sales of high-end waterfront homes which have been on the market for two or more selling seasons. The waterfront properties at 88 & 90 Pocomo Road and 15 Hallowell Lane also traded in August and sold for more than a 50 percent discount to the original list prices set more than two years ago. The current pipeline holds at least four more of these types of transactions indicating that after a relatively quiet 18 months, the high-end sector of the Nantucket real estate market appears to be back!
It should come as no surprise that with the flurry of sales in the upper end of the market, the year-to date average home and median home values have improved significantly from 2011 when the high-end of the market was noticeably silent. Through August 31, 2012, single-family home sales above $5 million represented eight percent of all transactions, a five percent increase from the same time period in 2011 (see below pie chart). In addition to this shift into high-end transactions, there was a year-over-year decline (seven percent) in the number of sales for less than $1 million.

This upward movement in the distribution of sales by price point, and the aforementioned home sale of $18.5 million, resulted in a 30 percent jump to $1.98 million in the average value of a Nantucket home as of August 31, 2012. This is not so much evidence of a dramatic increase in values as it is the return of a vibrant high-end market. In fact, this year's average home value is nearly identical to the average home value of $1.94 million in 2010 when high-end sales accounted for five percent of all transactions. This increase in the median home value is also attributed to the shift away from the lower end of the market into the $2 million to $5 million categories. To account for this deviation, we also reviewed the year-toyear change in the median value. Through August 31, 2012, the median value of a single-family Nantucket home was $1.34 million, up 18 percent from both 2011 and 2010 when the median value remained largely consistent. This improvement is also largely explained by the shift out of the lower end of the market into the $2 million to $5 million and +$5 million categories. While we believe that property values are firming, given strengthening demand and stable inventory, we have yet to see any anecdotal evidence which suggests these increases in average and median home values are due to significant property value increases. This will most certainly be an area of focus in the coming months as we further analyze 2012 property transfers. For now, the Nantucket real estate market is still basking in the warmth of summer's height!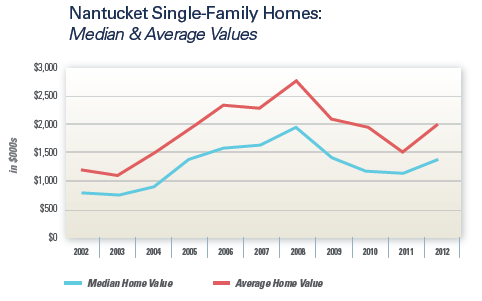 - Jennifer Shalley
DIRECTOR OF RESEARCH FOR WINDWALKER REAL ESTATE